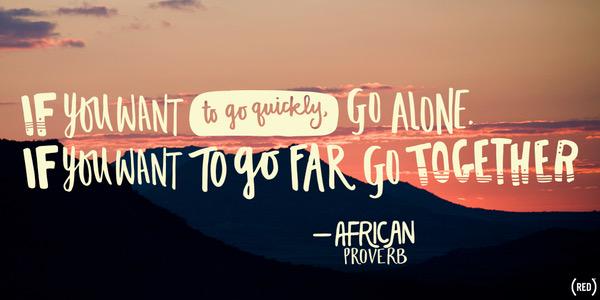 If you want to go quickly, go alone. If you want to go far, go together.
This old African saying is like no other applicable to knowledge sharing. Maybe you recognize following situation in your organization. Experts in an organization do not have the time to share their knowledge because they have an overbooked agenda to tackle the daily problems. As result the knowledge stays within one or two persons and hardly anything is being documented. Seeking and finding trustworthy sources is impossible, that is why separate departments invent the same wheel. The organization did not make knowledge productive.
Last decennia there has been a movement from a focus on documenting information towards a focus on making knowledge productive. Knowledge becomes productive when creating and applying knowledge results in step by step improvements and radical innovations of procedures, products and services within an organization.
I see a number of phenomena having influence on effective knowledge sharing. I will mention three of them in this article. First the exponential growth of information, knowledge and innovations in the world. Second the slow adaptation of organizations to keep up with this acceleration. And third is the exponential growth of computer power.
To avoid that existing knowledge already is outdated before it has been documented, organizations more and more choose to make explicit their critical knowledge only, which degrades knowledge to information, by the way. Adding to this organizations develop solutions that support 3 C's: Connection, Collaboration and Co-creation. Seeking and applying knowledge, moreover in people's heads, is increasingly being supported by machine learning solutions.
There is a limit what a human brain can contain regarding information and knowledge. This limit therefore can also be applied to an organization. Looking at the exponential growth of knowledge and information in the world, and the half-life of the validity of it, it is unsustainable that organizations keep their knowledge inside their own walls and need to make use of 'external knowledge'.
To optimize knowledge in an organization it is important to also look at the organization model. Martec's law indicates that although knowledge and innovation grow exponentially, organizations can only adapt at logarithmic speed. This will lead to a 'gap' that eventually needs to be closed by a 'reset' of the organization. A more 'loose' model is needed to transport knowledge in a more effective way. This within an organization but also between organizations. Organizations need to find each other and collaborate.
This can be done within the value chain (customers and suppliers) but certainly also within the education chain (schools, universities and education companies).
Do you want to go far? Go together and remember:
Knowledge is not manageable.
Information is manageable. Knowledge is a mixture of information and experience, and as such part of a person itself. Make knowledge productive by connecting people. Build your organization, processes, tools, roles and tasks in such a way that knowledge sharing becomes part of your culture. An important role is for management to make it successful.
Knowledge is not equal to power.
Most knowledge does not have an unique value that distinguishes you from colleagues, suppliers, schools or competitors. Not sharing means the knowledge will not be productive.
Most already has been invented.
Seek connection with colleagues, departments, but certainly also with other organizations.